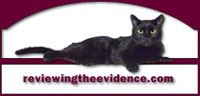 Formerly a Hollywood screenwriter, DENNIS PALUMBO is now a licensed psychotherapist, specializing in creative issues. His debut crime novel, "Mirror Image," is the first in a series featuring psychologist and trauma expert Daniel Rinaldi. The sequel, "Fever Dream," is available now, and the third Rinaldi, "Night Terrors," appeared this May.

RTE: Describe yourself in a sentence?

Palumbo: I'm a former Hollywood screenwriter (My Favorite Year; Welcome Back, Kotter, etc.), now a licensed psychotherapist and author of the Daniel Rinaldi series of mysteries.

RTE: What's the one record you'd take to a desert island?

Palumbo: The Beatles' "Sgt. Pepper's Lonely Hearts Club Band"

RTE: What did you want to be when you were growing up?

Palumbo: I wanted to be a rocket scientist. Seriously. Until I discovered that there was math involved. In college, I split my interest between writing and psychology...as I still do now.

RTE: Who's your oldest friend?

Palumbo: Jim Denova, from my first days at the University of Pittsburgh. He still lives there, and we're still best friends.

RTE: If I ruled the world...

Palumbo: I suspect it would be in even worse shape than it is now. Except that every day would feature an NFL game.

RTE: Which book do you wish you'd written?

Palumbo: "Presumed Innocent" by Scott Turow. No, wait..."The Poet," by Michael Connelly. No, no, wait..."The Heart of Darkness" by Joseph Conrad. No, no...aw, there are just too many!

RTE: What makes you angry?

Palumbo: Fundamentalism. Anyone who's certain that his/her beliefs are the one and only Truth.

RTE: Name your five dream dinner party guests.

Palumbo: Oscar Wilde. Dorothy Parker. Gore Vidal. Miles Davis. Helen Mirren

RTE: Who would you least like to be stuck in a lift with?

Palumbo: Karl Rove.

RTE: What inspired you to start writing?

Palumbo: Reading "The Adventures of Sherlock Holmes" when I was 10.

RTE: Where would you most like to live?

Palumbo: Oxford, England. Here in the states? Monterey, California.

RTE: Sum up your latest book in no more than 12 words.

Palumbo: Psychologist Daniel Rinaldi treats an FBI profiler on a killer's hit list